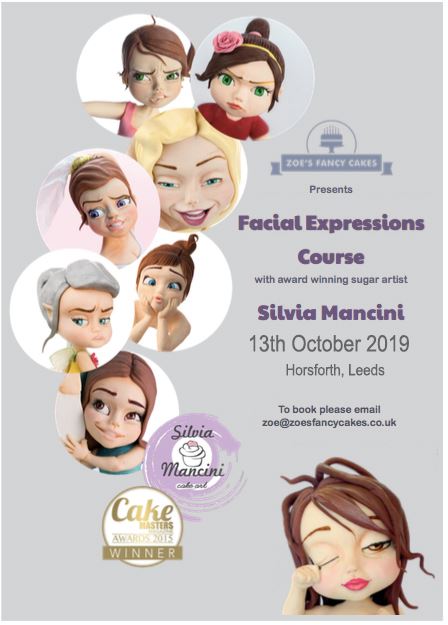 Sunday 13th October 2019, Leeds
To book please mail
zoe@zoefancycakes.co.uk
Facial expressions with Silvia Mancini
Silvia Mancini will teach you to create a range of faces and expressions using saracino modelling paste. The number of faces made will depend on the speed and ability of the individual student.
Price £225.00 per person.
Times are 9am till approx. 6pm
This class includes all materials and equipment required.
DESCRIPTION: the course is centered around learning and perfecting the techniques of modelling and painting decorative faces made from sugar paste. Under the guidance of the instructor and through personalized and individual attention, the participants (no more than 12 students) will learn to create and model different facial expressions (the number will depend on the skill level of the students), the first of which will be the same for all the students, then they will have the choice of many others proposed by the instructor.
The following technique will be learned at the course:
– Correct use of various modelling tools

– FACE modelling: technical construction of the face, eyes, nose and mouth; painting; hair.
– TECHNIQUES to create a range of expressions using modelling paste.
The instructor will provide handouts for each student with detailed explanations of the various techniques.
Through the day's lesson, the students will learn the various techniques, become self-sufficient and will be able to independently model a range of faces out of sugar paste.