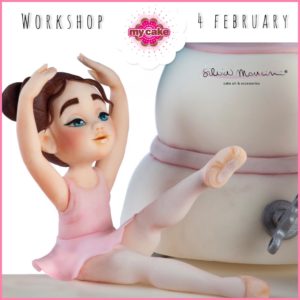 INFO & BOOKING: HERE
Silvia Mancini will teach you how to create this cute figure
The project is entirely handcrafted (no molds will be used) by MODELING SUGAR PASTE using Silvia Mancini's personal modeling techniques.
Adorn your cakes with this amazing figurine and apply the techniques learned in class to model a variety of cute characters!
Techniques being taught:
– Correct use of various modeling tools;
– Technical construction of the subject;
– Modeling face: create all face details and learn how to give the facial expression.
– Painting face: how to paint perfect eyes and mouth, make-up and shades.
– Modelling clothes and accessories out of modelling sugar paste.
The course is suitable for beginners and perfect for all cake decorators; from those who want to learn a new skill or those seeking to improve theirs.
Preis pro Teilnehmer: 75,- €
Dauer: 4 Std.
Max. Teilnehmerzahl: 14 Teilnehmer