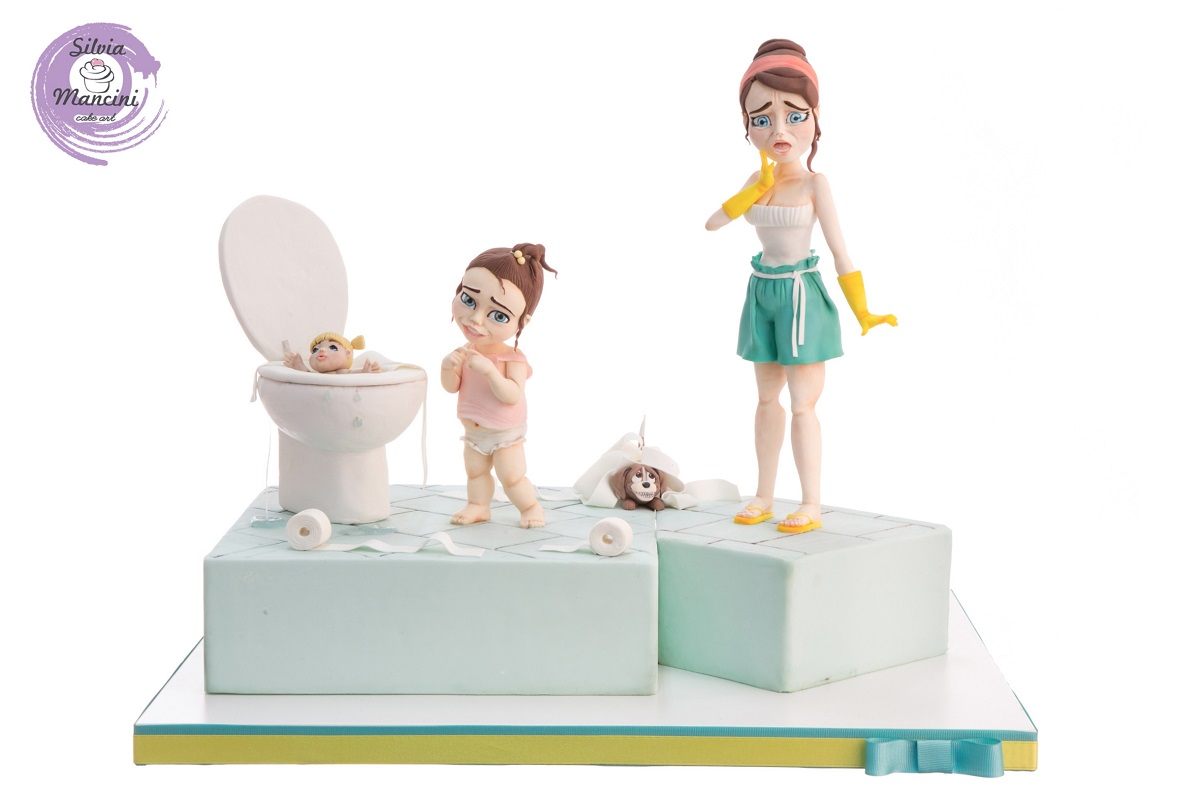 Bentrovati!
La torta che vi presento oggi è dedicata a tutte le mamme ed alle nostre amate piccole pesti.
Come spesso accade, l'ispirazione per un nuovo lavoro arriva quando meno me lo aspetto; stavolta a stimolare la mia vena creativa è stato il racconto di una mia amica alle prese con le quotidiane avventure da mamma.
La piccola Emma, la peste in questione, l'aveva combinata davvero grossa; volendo fare il bagnetto alla sua bambolina ha pensato bene di gettare nel water un bel rotolone di carta igenica, riuscendo così ad intasarlo e riempirlo fino (ed oltre!!) al bordo….Mi sono divertita a riprodurre la scena che la mia povera amica si è trovata di fronte e soprattutto ad immaginare la sua reazione!
Una piccola curiosità…le gocce d'acqua le ho realizzate in isomalto.
Un caro saluto a tutti voi e…forza mamme!!!
Silvia M.
WELCOME BACK EVERYBODY!!
TODAY I 'M INTRODUCING  YOU THIS CAKE DEDICATED TO ALL THE MOTHERS AND THEIR BABY PESTS.
AS  USUAL THE INSPIRATION COMES WHEN YOU LEAST EXPECT IT. THIS TIME THE DAUGHTER OF MY BEST FRIEND GAVE ME THE INPUT .
EMMA – IS THE NAME OF THE PEST – MADE REALLY A BIG MESS. SHE WANTED TO BATH HER DOLL AND THOUGHT, FITTINGLY, TO THROW ALL THE TOILET PAPER INTO THE WATER  SO THAT IT BECAME FULL OF WATER .
MY FRIEND, AT THE SIGHT OF THAT MESS, HAD NO MORE WORDS AND  I HAD SO MUCH FUN IMAGINING THE SCENE THAT I WANTED TO REPRODUCE IT .
OUT OF CURIOSITY, THE DROP OF WATER ARE IN ISOMALT .
KISSES
SILVIA  M.